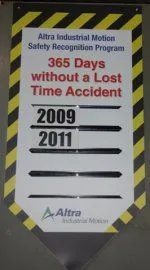 Kilian Manufacturing Corp and I have worked with Dr. Moran since 2004. Dr. Moran's ability to discern a situation and achieve the best possible results would be an asset to your business.
Dr. Moran has been a part of the Kilian "team" for the past 6 years. Beyond her weekly visits to diagnose and treat on-the job and off-the-job injuries "in-house", her ability to connect with an employee and get results to help keep an employee on the job has been a value to Kilian.
It is not just chance that Kilian had gone over 2 years without a lost time accident and that our workers' compensation cost are way down over the last 6 years. Dr. Moran is part of an aggressive Kilian safety mindset that keeps people thinking about safety, and behaving safely on the job
Keith M. Flynn, PHR
Human Resources Manager


---

 


Let me begin by saying that we are so thankful to be working with 
Advantage Workplace Wellness! We have not only seen a decrease in 
our Worker's Compensation claims, but we've also seen a decrease in our
OSHA recordables, as well.

Our employees appreciate the one-on-one attention and overall seem to
be very happy with the services provided. In addition, by sending our 
new hires to AWW for their pre-screening,
we now have a baseline by which we can refer back to when/if an employee
has an issue. 

More importantly, by utilizing the services provided by AWW, we not only 
have better morale among our employees, but we see our employees taking 
more of an active role in the safety and ergonomics issues within the 
organization as a whole. 

We are very satisfied with Advantage Chiropractic & Wellness and can't 
thank Dr. Moran and her staff enough for the support that they have 
given, and continue to give to our organization.


 

Holly B. Wright, MBA, PHR
Human Resource Manager
Manth Brownell, Inc.